Swimmercise Pro 17 Swim Spa
Swimmercise Pro 17 Swim Spa
The Swimmercise Pro 17 offers the same six fitness jets and 36 hydrotherapy jets as the Swimmercise Pro 15, but it gives you more space to work out and lounge, offering a full 17 feet.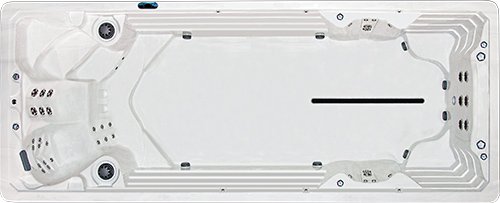 Dimensions
204″ x 92″ x 56″
136″ fitness area
Design Features
Fitness zone features side entry steps with full body recliner and sculpted massage seat, open barrier-free fitness area, two standing massage columns.
Therapy Jets
36 hydrotherapy stainless jets. Full body massage columns, reclining and sculpted seats with shoulder, upper and lower back, hips, calves and feet jetting.
Fitness Jets
6 high-powered adjustable fitness jets
Capacity
2,420 Gallons, 9,160 Liters
Swim Spa Power
16HP, 3 pumps, 5.5KW heater, 50 amps
Weight (lbs.)
1,784 Dry, 21,144 Wet
Finish
Silver Marble or Tuscan Sun acrylic shell, Grey or Brown cabinet
Give us a call at one of the numbers listed above. We're happy to answer any questions you have. Don't see the service you need listed here? If we don't provide a service you're looking for, chances are we can refer you to a professional and trustworthy company that does.