Summer is a time to enjoy quality time with your family and friends. Our swimming pools are designed to enhance your backyard enjoyment. Our High End Steel Series has been designed to integrate state of the art technology with the latest design trends. Bringing you the creation of technologically and aesthetically superior above ground pools, we bring technology and design together.
Resin ledge cover won't chip or peel. The flush design eliminates exposed screws.
8-inch multi-ribbed top ledge with printed matching pattern.
NUANCE wall pattern complements the pool's printed frame, creating a perfect harmony with the Pearl structure.
Round
12′     15′     18′     21′     24′     27′ 
52″ Height
30′     33′
Oval
12′ x 18′     12′ x 24′    15′ x 24′     15′ x 30′     18′ x 33′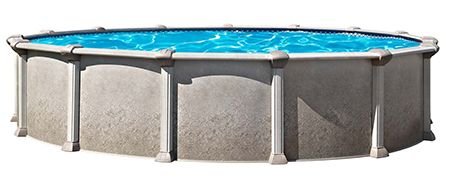 Features
8-inch multi-ribbed printed top ledge
Fully supportive printed uprights
Reinforced resin ledge cover
All steel top coated with poly-enamel coating
All components double coated with Zinc Guard 275
Nuance wall pattern
Wall coating with layers of protection on both sides
Stainless steel hardware
Easy to assemble
Buttress-free Yard extender system for oval pools
Invisible lateral supports that you place in the ground
Give us a call at one of the numbers listed above. We're happy to answer any questions you have. Don't see the service you need listed here? If we don't provide a service you're looking for, chances are we can refer you to a professional and trustworthy company that does.