A poolscape is a fully integrated pool environment that includes not only the water, but also a full array of add-ons, accessories, landscaping, furniture and more. The idea is to broaden the concept of your swimming pool into more than just swimming. Today's pool owners are taking full advantage of the investment they've made by adding a variety of options that allow them to enjoy their new lifestyle as pool owners. Below are some examples of items you can use to create a fully integrated poolscape.
Excavation
Excavation for a vinyl-lined pool is a job for an experienced backhoe operator. Normally the side excavation is approximately two feet beyond the finished pool perimeter to allow for assembly and a concrete footing to be installed.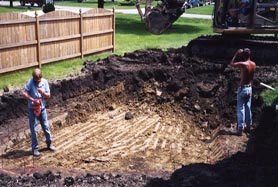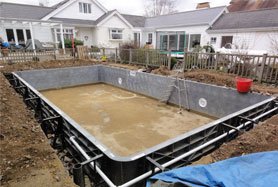 Assembly
The second step includes assembly of the steel panels and stairs, coping receptor, skimmer and inlets as well as suction and return plumbing.
Concrete & Decking
Most builders pour the concrete decking once all of step two is completed but in some cases and with certain water table situations, the liner will be installed before the decking is poured. The pool structure is strong enough to allow installation to proceed in either manner.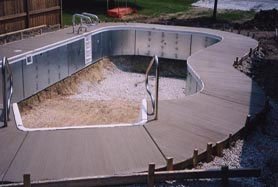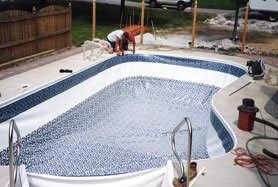 Liner
In this photo we see the liner being installed. This is where an experienced expert makes all the difference!
Water & Enjoy
Fill it with water and enjoy all of the health, fitness and entertainment value of a spectacular poolscape in your backyard!
Give us a call at one of the numbers listed above. We're happy to answer any questions you have. Don't see the service you need listed here? If we don't provide a service you're looking for, chances are we can refer you to a professional and trustworthy company that does.