No poolscape is complete without landscaping. We can help you put the finishing touches on your new poolscape.
fencingCreating a backyard escape involves many aspects, including landscaping! When creating your own personal backyard escape, landscaping is one of the many different elements of pool ownership that will turn your ordinary backyard into a place that will draw both your family and your guests. Landscaping is a key element that can really make a difference between an ordinary pool and a tremendous escape from the daily grind!
We can work with you to develop a landscaping design to enhance your pool and the overall aesthetic appeal of your home.
Designing the right combination of height, color and coverage is the key to building a landscaping package that will truly accentuate your backyard escape.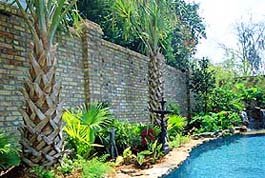 Give us a call at one of the numbers listed above. We're happy to answer any questions you have. Don't see the service you need listed here? If we don't provide a service you're looking for, chances are we can refer you to a professional and trustworthy company that does.