What will you be doing this summer? Superior materials and renowned durability, The V7 Steel Series brings you the ultimate in steel pools. Take pride in owning a quality steel pool that is built for the long haul! The entire steel structure is coated with a combination of protective finishes, ensuring maximum resistance to corrosion and providing optimum durability.
Round
12′     15′     18′     21′     24′     27′ 
52″ Height
30′     
Oval
 12′ x 23′    15′ x 30′     18′ x 33′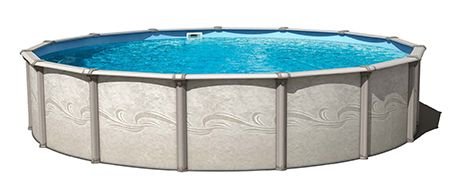 Features
7-inch multi-ribbed steel top ledges
Steel uprights with modern design & superior protection
Two-toned ledge cover made from reinforced composite polypropylene resin
Resin bottom plate with integrated foot cover for better fit
Dorado wall pattern-a pleasing look with the sand frame
Heavy corrugated wall with superior coatings
Easy to assemble
Yard extender system for oval pools

A series of practically invisible lateral supports placed in the ground, leaving more yard space.

 
Give us a call at one of the numbers listed above. We're happy to answer any questions you have. Don't see the service you need listed here? If we don't provide a service you're looking for, chances are we can refer you to a professional and trustworthy company that does.