Be a kid all over again and spend the whole day outside by your above ground pool. The V6 Steel Series gives you affordable summer fun in a superior steel frame with designs that blend quality, endurance and reliability. The entire steel structure is coated with a combination of protective finishes, ensuring maximum resistance to corrosion and providing optimum durability.
Round
12′     15′     18′     21′     24′     27′ 
52″ Height
30′     
Oval
12′ x 17′     12′ x 24′     15′ x 26′     15′ x 30′     18′ x 33′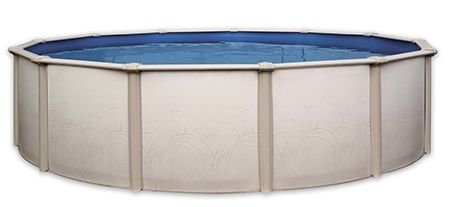 Features
6-inch sturdy steel ribbed top ledges
Fully supportive steel uprights
Decorator resin ledge cover, coated for maximum protection
Engineered to withstand years of use
Frame is reinforced for extra protection
Venezia wall pattern
Heavy corrugated wall with superior coatings
Easy to assemble
Buttress system for oval pools

A structurally simplified design with superior strength and durability that is both efficient and attractive
Give us a call at one of the numbers listed above. We're happy to answer any questions you have. Don't see the service you need listed here? If we don't provide a service you're looking for, chances are we can refer you to a professional and trustworthy company that does.